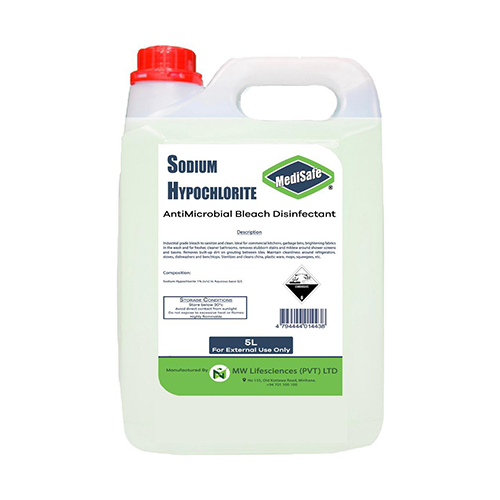 1% Sodium Hypochlorite – 5L Can
Rs. 1500
• 1% Sodium Hypochlorite
• Anti-microbial Bleach Disinfectant
• Industrial grade bleach to sanitize and clean.
Description
Delivery Charges
Directions for use
Reviews (0)
Description
Ideal for commercial kitchens, garbage bins, brightening fabrics in the wash, and fresher, cleaner bathrooms. Removes stubborn stains and mildew around shower screens and basins. Removes built-up dirt on grouting between tiles. Maintaining cleanliness around refrigerators, stoves, dishwashers, and benchtops. Sterilizes and clean china, plasticware, mops, squeegees, etc.
Composition:
Sodium Hypochlorite 1% (v/v) in Aqueous base Q.S
Colombo & Suburbs
Delivery Charge – Rs. 450/=
Outstation
Delivery Charge – Rs. 750/=
• Store below 30° C.
• Avoid direct contact with sunlight.
• Do not expose to excessive heat or flames.
• Highly flammable.
---
Only logged in customers who have purchased this product may leave a review.